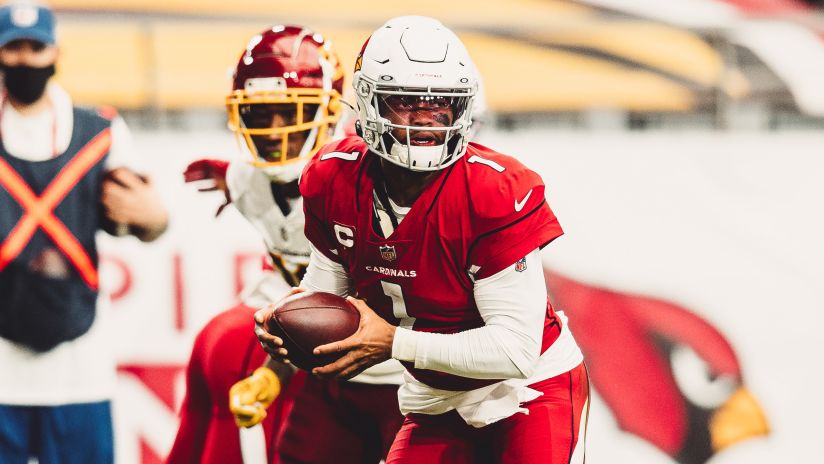 It's a passing league, loud talking heads like to say. 
And yet, few can deny the growing preference for running quarterbacks in the 2020 NFL. I mean it's hardly running anymore, but rather, burning around the park like Wylie Coyote atop an ACME rocket. Nobody can catch the new guys – they're the latest in a long line of shifty, speedy and supersonic signal-callers. 
So here's a short guide covering the men who have set the running QB benchmark:
1950s
Tobin Rote wasn't huge, but drove upfield like a pick-up. In fact, he picked up 37 rushing touchdowns in his career, along with some outdoor furniture and potted plants for the neighbors.
1960s and 70s
The Mad Scrambler Fran Tarkenton was relentlessly evasive, like a baby eggplant rolling under the fridge (huh?). He finished with 3,674 career rushing yards.
Roger Staubach still has great hair. He scrambled for 2,264 yards for America's Team, mostly on good old American watch-your-knees turf, which is remarkable. His hair always looked good, too.
Speaking of hair, Jim Zorn's flapped elegantly in the Seattle winds as he logged 1,504 career yards, mostly while running for his life … and presumably to the stylist later on.
Terry Bradshaw hustled and bustled, long before Russell (Wilson). If he spent less time yapping he might have made even more yardage.
1980s and 90s
John Elway wasn't so much an agile mover but more like a muscle car, weaving and skidding to impossible scores. It wasn't always pretty but he routinely got us out of our seats, chip bowls flipped to the floor and sudden Broncos fandom just a play away.
Now we can't speak for his off-field action, but Randall Cunningham was so wiry, loose-legged and elusive there were few on-field moves missing from his arsenal. He was the ideal running quarterback … and also threw a deep ball like it was Tecmo Bowl.
1990s
Steve Young could motor – not like Cunningham – but with a crafty vision. He was thrilling purely because he didn't look the part (I mean he might have been mistaken for an accountant by some). And yet, in a blink, No.9 pinned his ears back and calculated the best route to the end zone, and into Joe Montana's cleats.
Impossible slashes: Kordell Stewart.
2000s
Michael Vick was so damn fast, he set coaches into wetting-their-pants meltdowns. He zigged and zagged at speeds which really were dazzling. Not sure he was as electric as Cunningham, though many pundits like to think so. 
Jukes, jolts and jumps … some throw-up: Donovan McNabb
The original speedster, now in mothballs: Robert Griffin III
Long, slick and deceptive: Colin Kaepernick
Today …
Super runner, super star: Cam Newton
Pocket dynamo and would-be MVP: Russell Wilson
The most valuable feet going 'round, and up and down: Lamar Jackson
Big arm, big runs, big time: Patrick Mahomes
The escape artist: Deshaun Watson
Out-of-a-video-game sprite: Kyler Murray