When I saw the following slide posted to Twitter after the recent Bears-Rams game, I couldn't help but think the players in the picture looked a lot like the '85 Bears.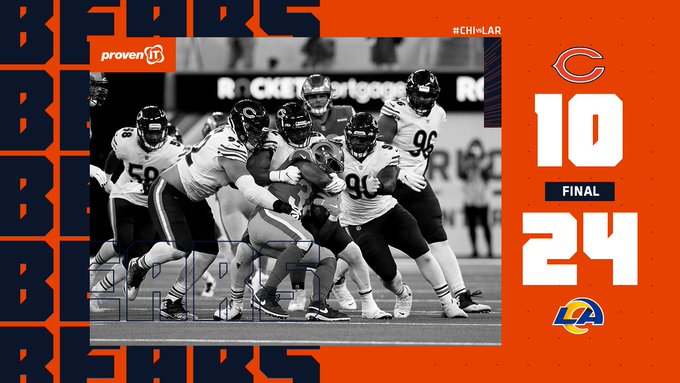 Something mystical happens to Chicago's uniform when it's shown in black and white. There's something menacing about the way that dark Vader-like helmet is contrasted by the all white jersey. No other NFL team benefits from the power of its past, and few pasts are as grand as those stampeding 1985 Bears defenders who shut down opponents like a pack of wolves converging on a gazelle.
Well it wasn't a gazelle in this instance but a Ram, one that looks positively helpless as it cowers from the grizzly men in the picture.
Chicago's social media people surely know this, or were at least this week handed a folder marked '85' by some wise old exec from a far corner office. This geezer knew too well that a loss was on the cards and indeed a 24-10 drubbing at the hands of an NFC rival might only be softened by such an image.
This is social media at its best really: shifting an absolutely shocking outcome into a positive light. In other words, I look at this image and I think maybe the Bears won this game. Right? I mean if that is, in fact, the '85 Bears in the shot, then they surely won despite the final score. Alright! Go Bears!
It's worth noting that at the time of writing this post by the Chicago Bears club has 910 likes.